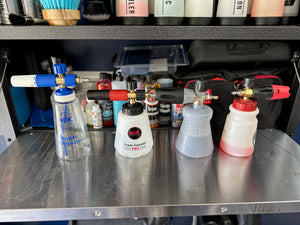 The Best Foams Cannons For Car Washing & Detailing
Cleaning and washing cars can be a lot fun if you enjoy that sort of thing. One of the best parts of cleaning cars is using a foam cannon to spray the vehicle down with your favorite snow foam or car shampoo. While the use of foam cannons has become more and more popular so has the growth of new foam cannons on the market in 2023. With the growth of using foam cannons the number have brands making them has exploded as well. From cheap $15 foam cannons on Amazon to $100 foam cannons made abroad there is a foam cannon for every budget and need. We have used and tested dozens of foam cannons and these are what we believe are the best 5 foam cannons for the serious detailer or hobbyist.
Are All Expensive Foam Cannons Better?
While in most cases you get what you pay for is a true statement it can also be misleading. We have used and tested some "expensive" foam cannons that did not perform well and were bested by a foam cannon for $80 less. Don't get confused with a name brand or a price tag as being good. We did that homework for you and left those overpriced units that do not perform well off of this list so you do not need to waste any money on them or be disappointed. 
What to Consider When Buying a Foam Cannon
There are many variables when deciding which foam cannon to purchase or which one may be the best. The biggest factor right off the bat is if you have a pressure washer or not. If you only have a garden hose than you would need to use a foam gun because foam cannon is designed to connect to a pressure washer and not just any hose.  Another major factor is what your budget is for a foam cannon. We have chosen several foam cannons below to fit most budgets and there should be a viable option for you as well. If you are only going to use a foam cannon once or twice per year than a high-end foam cannon may not make sense so use your judgement with what you really need. Are you going to be using the foam cannon for your detailing business for a living? If you detail full-time or just on the weekends you may want to invest in a foam cannon that will last for years and will not fail on your when you need it. 
MTM Is the Industry's Leader in Foam Cannons
If there is something synonymous with foam cannons it is MTM. MTM has been the leading manufacturer of the finest foam cannons for years and are considered the best foam cannons by many pros. The MTM PF22.2 is the latest model in their arsenal and it is everything you want it to be. It is built with high quality materials, looks great, won't tip over, and it foams like crazy. This Italian built thoroughbred is a staple in the detail industry and would work well in your setup as well. Whether you work in a garage, a driveway, or out of your van this foam cannon is dependable and you cannot beat it. The great thing about the MTM PF22.2 is that it works with with snow foam and regular car shampoo but is also durable enough for higher alkaline chemicals like All-Purpose Cleaners and Wheel & Tire Cleaner. The MTM is easy to use, won't tip over, and includes a 1.1MM orifice to help get better foam with lower volume pressure washers like a Ryobi or Karcher. If you have a Kranzle, Active 2.0, Active VE52, or AR Blue you will be good running the factory installed 1.25MM orifice. Running a 1.1MM in these higher flowing pressure washings can reduce the life of them as it causes a strain on the motor and pump. The 1.25MM orifice will be your best option in most cases and will make incredible foam.
Some of the best foaming shampoos we have used in our MTM PF22.2 foam cannons have been Vonixx V-Floc, The Detail Firm Exterior Lather, Adam's Car Shampoo, Lithium Double Tap, Vvash Hyper Foam, Carmistry Car Shampoo, CarPro Reset, and many more. The nice thing about the MTM is that it can spray your car shampoo and other cleaners horizontally and vertically and is easy to dial in to the pattern that you want. Whether you want a very wide fan or a very focused blast on wheels and tires it is extremely easy to adjust. Many foam cannons on the market can change and adjust like this but the MTM stays in place and position really well which adds to the user experience. We have also tested the new MTM Snow Foam and it is incredible; it foams like crazy and smells very good. 
While the MTM is the leader in the space there are a couple of improvements that can be made to the PF22.2 to make it even better. The mouth of the bottle is very small and filling it can be messy so having a wide mouth bottle would be a great change. The other part of the bottle and body of the cannon is that they are mixed materials of plastic and metal and cross threading can happen easily if you are hurrying or not paying attention. Having a durable plastic bottle and threaded part of the sprayer body would be ideal. Overall, you cannot go wrong with this foam cannon and there is a reason it has been the cream of the crop for so long. With the code GLOVEBOX15 you can save 15% off at MTM and can get the MTM PF22.2 for under $90 which is a fantastic price. Normally, the MTM PF22.2 is over $100 retail and is still worth every penny.
MJJC Foam Cannons Bring Newness To The Detail Industry
One brand that has really made a name for itself in 2023 in the detailing industry and specifically in the foam cannon space is MJJC. They have managed to bring some of the best parts of the industry's finest foam cannons and added their own flare to them to deliver some great options. The MJJC Foam Cannon Pro V2 and the MJJC Foam Cannon S V3 are both phenomenal foam cannons and really well made and priced. Many detailers and hobbyists believe these MJJC models are the best foam cannons on the market and we can see why. They visually look quite different with the Pro V2 being wider and shorter, and the V3 being taller and narrower and also includes a clear bottle which is a nice touch. The bottle on the Pro V2 is a great shape and the usability is great but the bottle is more a opaque white color like a frosted window. Both bottles are easy to fill and you can easily see the level of chemicals you are working with but the clear bottle is just a tad nicer. The Pro V2 has a traditional threaded cap and bottle while the S V3 has a quick disconnect type bottle that makes it easy to attach and remove and is a great addition into the foam cannon space. Both units like the MTM PF22.2 come with different orifices to help you achieve the level of foam you desire and pressure washer you have. as well as ability to spin the pattern vertically or horizontally. Neither of the MJJC cannons maintain that positioning like the MTM and it can easily move in either direction. While this is not really a big deal it is not as buttoned up as the MTM's lock in place design. The components and materials in both the MJJC Pro V2 and the S V3 are really nice and look like they will last for years. 
In our experience and others on YouTube like IMJOSHV there is no real difference in performance between the two foam cannon models from MJJC. My garage has hues of blue so I went with the blue and white MJJC S V3 but if you like red and black maybe the Pro V2 is better for you. The S V3 is taller and thinner but is still extremely stable and will not tip over very easily which was a problem with many cylinder type foam cannons. One aspect of the MJJC foam cannons we really enjoy is the weighted ball at the end of the inner hose because no matter what angle you want to spray at, the foam keeps spraying and you won't miss a beat. The price of the Pro V2 and S V3 are the same at $89.99 and is a great value for the level of foam you get and the fantastic design of each of these foam cannons. Many sites offer deals on these fabulous foam cannons so shop around. If you put either of these against an MTM PF22.2 you would be splitting hairs on which one makes better foam so we will let you be the judge on which you prefer.
Best All Around Foam Cannon For the Value
If I was shopping for a foam cannon that was easy to use, friendly on my pocket book, made well, and performed better than most, I would choose the Griot's Garage Brilliant Finish Foam Cannon. At $65 it is cheaper than the MJJC Pro V2, S V3, and the MTM PF22.2 and is really comparable in quality and performance. For these reason this is probably the best foam cannon for most car enthusiasts and gear heads. The wide mouth bottle allows for easy pouring and a unique narrow thread pattern inside the red cap allows you to screw the foam cannon on Griot's 22 ounce and 35 ounce bottles. The machined aluminum manifold is black in color and pairs well with red cap and nozzle. The rubber nozzle is easy to grip and can fan from 4 degrees to 0 degrees for a targeted stream. The double treaded cap allows you to quickly grab different chemicals and get right to work without having to remove the standard 33 ounce bottle to fill it. Maintenance is easy like on the other foam cannons on this list and replacement parts are readily available. This foam cannon is extremely good at spraying shaving cream thick foam or more runny foam depending what you are looking for and will work great with your favorite car shampoo or snow foam. You do not have to use a Griot's Garage shampoo but their lineup of products work extremely well in their foam cannon. The Griot's foam cannons will work with many different pressure washers and can be tuned to fit your needs like the other cannons on this list. If I was a new detailer looking for something that is easily accessible without breaking the bank or an experience shop looking for flexibility, I would put my money into the Brilliant Finish Foam Cannon. 
The Best Low Budget Foam Cannon
If you are a weekend warrior, hobbyist, or starting out in detailing there are many options for decent foam cannons. Don't be fooled by foam cannons that have a brand name tied to them except the ones above as they are just rebranded foam cannons that hundred of websites sell. Amazon has an endless supply of foam cannons and we have tested several lower priced alternatives and really enjoyed the FENG PAI clear foam cannon. It comes with a quick disconnect like most other foam cannons and has a large clear bottle that is easy to fill and grip. It is priced at $20.99 but often can be had for $15 or $16 just keep your eyes open for sales. The great thing about this foam cannon is that is foams well can be adjusted pretty well and can be a great backup for your higher end units. It can also be a great foam cannon for APC prewashing, wheel & tire cleaners, and much more. Using a cheaper foam cannon for harsher chemicals will help extend the life of a better and more expensive foam cannon like the MTM, MJJC, or Griot's units. The best foam cannons in the industry all need to be cared for and maintained and this foam cannon is no different. It is extremely easy to clean and maintain and many replacement components can be found easily. 
Which Is The Best Foam Cannon On The Market?
This is a tough question answer and it has a lot of variables to consider. If price is no object and you want some thing that will not let you down then I would purchase the MTM PF22.2. If you want something durable, that performs well, and will do a great job for most budgets than I would go with the MJJC units as they can be had on sale for under $80. Finally, if I was more of a hobbyist and just wanted a great foam cannon that will be easy to use and won't break the bank I would purchase the Griot's Brilliant Finish Foam Cannon. You cannot go wrong with any of these in our list, it just depends where you are at in your detailing journey and what you are looking for. No matter which one you use and end up purchasing you will have a lot of fun and will be the awe of your neighbors as you wash your car in style.
Purchase Links:
MTM Code: GLOVEBOX15 for 15% Off
MJJC Code: JHVKQ5HW for 10% Off
---