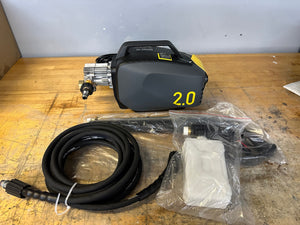 Active 2.0 Pressure Washer Review
I recently upgraded my home garage pressure washer for detailing my cars and occasional client vehicles with the Active 2.0 Electric Pressure Washer. I already had the Active VE52 but was intrigued by the newer model and decided to give it a shot. While I technically did not need to buy a new pressure washer as my VE52 was only a little over a year old, I felt the new model too compelling to not give it shot. It seemed to give a little more in performance and looks and would fit easier in my work space as I only have a two car garage and space is a premium. Here is my review and thoughts in this purchase in what I think should improve my detailing experience. 
Why do you need a pressure washer when detailing?
One of the greatest tools in a detailers arsenal is a pressure washer. It helps in the cleaning process unlike any other tool or product and choosing one is extremely important. Pressure washers make washing cars much faster, easier, and use less water than a garden hose sprayer. There are two main types of pressure washers; electric and gas powered. Most detailers, hobbyists, and prosumers use an electric pressure washer as they combine ease of use with performance among other things. One down side of electric pressure washers is they may not have the power as their gas powered counterparts but that is not necessarily bad. When detailing and washing cars, trucks, SUVs, RVs, or boats, you do not need anything with concrete cutting power. You want a machine with enough pressure to knock down dirt and debris while moving lots of water for good rinsing capabilities. Gas pressure washers usually are overboard for washing cars and can actually damage a vehicle because they are just too powerful. For this reason alone electric models are more conducive to detailing but throw in the cheaper pricing, they are quieter, and usually smaller it is a no brainer.
How much pressure do you want when washing a car?
So how much power do you need for detailing with an electric power washer? Matt Moreman from Obsessed Garage has spent countless hours figuring this out and after all of his research and testing he has determined that 1000PSI is a great level of pressure for washing and detailing cars. This is pretty attainable for all electric pressure washers but this is not the only factor we need to keep in mind. When washing cars and detailing we also need more water output or waterflow. This is measured in Gallons Per Minute or GPM with the higher the number the better. The ideal GPM for detailing is around 2.0GPM. This is a sweet spot for rinsing off the vehicle but also more important when using a foam cannon. When you use a foam cannon you ideally want more water flow to create shaving cream thick foam. Of course this may be a preference and a longtime debate on if you need super thick foam but most of us enjoy that. If you have a lower flowing unit that is around 1.2GPM or 1.4GPM you may still get decent results from your foam cannon but you will probably need to upgrade the orifice inside of your foam cannon to get the thick foam you may be trying to achieve or may have to use a lot more product than you would care to use. I really like the ability to get really thick foam in my prewash process and can control it on my foam cannon if I want runnier foam. Having a low flow pressure washer does not give you that benefit most of the time and you are stuck with lack luster foam and need to run a ton of product which is a waste. Not with the Active VE52 or even more so with the 2.0. It foams for days and using my favorite soaps like The Detail Firm Exterior Lather, Carmistry Atomic Suds, or Koch Chemie Active Foam I can really get the experience I want and that is thick lingering foam that works well without having to use 3 or more ounces of product. I use 1 or 2 ounces for 500ml or 600ml of water and it is foaming the block level foam with the 2.0. On top of this is I do not need to use a 1.1mm orifice in my foam cannon to achieve these results. I run the 1.25mm orifice in my foam cannon and it runs perfectly without tripping any breakers or switches as a smaller orifice can prematurely wear out your machine or cause amperage spikes. I recently bought a 1.5mm orifice to test out and look forward to seeing how that performs as it should let the machine work easier while providing plenty of foam.  
What pressure washers get 2.0GPM?
Since we now know from Matt Moreman, IMJOSHV, Cars With Keav, and many others online that 2.0GPM of water flow is ideal we can narrow down our pressure washer options. There are three main brands that achieve 2.0GPM in waterflow and those are Kranzle, AR Blue Clean, and Active. Kranzle is the pinnacle in the detailing world when it comes to pressure washers but may not be in everyone's budget since they are over $1100 to start. AR Blue Clean are close behind Kranzle pressure washers in performance and form but slightly less expensive at $799. This is where the Active brand of pressure washers shines as it combines the performance of these other brands with a much more friendly pricing structure that starts at $230. The upside with the more expensive brands like Kranzle and AR Blue Clean is they can last indefinitely because they are serviceable while the much cheaper Active lineup cannot be serviced. Once the Active products detonate there is most likely no way to repair them and bring them back from the dead. Because the Active line checks my boxes of performance, price, and aesthetics I purchased from this brand. Brad from GloveBox runs a Kranzle as he is detailing everyday and I am mostly a hobbyist. The Active lineup is also a great back up product for someone running a Kranzle or AR Blue because they can still run a high performance pressure washer while servicing their higher-end model. 
The Active VE52 & 2.0 Pressure Washers: Which is better?
My first Active pressure washer was the VE52 as it was a huge hit with detailers because it flowed water like crazy and was less than $250. It was a great machine and really upgraded my detail life from my big box store brand pressure washer. Don't get me wrong my machine from Home Depot worked but it was not as enjoyable as the VE52 because it did not foam my cars up as well, was not as compact, and did not look as cool in my garage setup. I ran the VE52 for over a year but did not like the configuration of the connections as it was not as easy to shelf mount it and it also required adapters to allow my upgraded pressure wash hose to fit on it. It ran well (occasionally surged) and did a great job washing my cars but still was not 100% what I wanted because of these little things. As soon as Matt published his video on the new 2.0 version of the VE52 I knew I would get one in the near future. It was way more machine for still a great price. It was smaller, the configuration was way better for mounting it on a shelf, it flows a little more water, and it looks really good. 
Besides these opinion focused improvements here are the true stats between the VE52 and the 2.0.
PSI: The VE52 produces 1000PSI with the factory nozzles and gun while the 2.0 produces 1050PSI according to IMJOSHV. Both of these machines hit the 1000PSI mark perfectly so you really can't go wrong with either.
GPM: The VE52 produces 1.84GPM with stock components while the new Active 2.0 can create 1.89GPM with stock components while getting 2.12GPM when upgrading to a 5.0 orifice and the VE52 achieved 1.86GPM with a 4.0 orifice. Clearly the 2.0 is the better machine and ranks closely with the Kranzle models that boast 2.0GPM. 
Size: The VE52 while smaller in stature measures 22" W x 12" D x 12" H and the Active 2.0 measures Length: 17"W x 7"D x 8" H. Besides being smaller the 2.0 fits nicely on my shelf and the hoses connect in a much better way than the VE52.
Weight: The VE52 is easy to handle and only weighs 18.5 pounds while the newer more robust Active 2.0 weighs 23.0 pounds so shelf mounting should be done with proper hardware.
Lifespan: The VE52 is rated to last 80-90 hours while the new Active 2.0 is rated for twice that. This is a great improvement and really adds value to paying the premium for the 2.0 over the VE52.
Overall, the Active 2.0 outperforms its predecessor and crushes all big box store units and really is a bright spot in the space. Active continues to work with influencers on building better products and I would not doubt that they have 3.0 on their minds already. 
Where can you buy the Active 2.0?
If you are thinking about getting the new Active 2.0 you can find it at many retailers. Obsessed Garage is the first place to launch the 2.0 and rightfully so. They helped in the development of it and were near all phases of the product from start to finish. Obsessed also sells a plethora of upgrades for your pressure washing needs from hoses, to wands, to quick disconnects, and different sized nozzles. You cannot go wrong with their expertise in this arena. Adam's Polishes recently jumped in the ring and now offer the Active 2.0 which is great as their own line of pressure washers have not scored that well especially for the price point. You can also find the Active 2.0 at Amazon and The Clean Garage. I purchased my 2.0 on Adam's site as I needed other products I needed to reload so it just worked out to be easier that way and I received free shipping on my order which always helps.
While you cannot go wrong the Active VE52 or any of the other pressure washers I have mentioned here, but if you are on a budget or not a professional you really should take the 2.0 for a spin. It is a fantastic unit for detailing and will look amazing in your garage. It really makes detailing fun and efficient and I am glad that I upgraded and will allow me more time to save up for the Kranzle setup down the road. I have upgraded my hose to a more flexible 50 foot Uberflex hose and stainless steel quick disconnects for the hoses, and a stubby gun that is much more user friendly for cleaning in jams and when using my foam cannon. So far I am extremely happy with my 2.0 purchase and will really put it use this spring and will test my different nozzles and orifices and see what works the best for my vehicles. No matter which Active model you order I do not think you can go wrong but I now lean towards the 2.0 as it is just plain better.
---