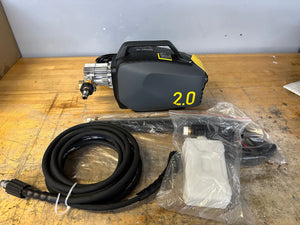 The Best Pressure Washers for Cleaning & Detailing Cars
When it comes to car detailing and washing cars, the electric pressure washer is probably the most useful tool in your arsenal. A good pressure washer can really speed up the wash process and is probably the most effective tool in cleaning up stubborn dirt and grime. With this being said there are so many variables in what makes a pressure the best for car detailing and much like detailing products there are so many pressure washers to choose from. Electric pressure washers are ideal for cleaning cars as they are not so powerful like their gas counter parts that they won't destroy a vehicle's paint or other delicate surfaces. After years of detailing and trying different machines here is our list of the 5 best electric pressure washers for washing and detailing cars, trucks, RVs, and more.
What To Look For In An Electric Pressure Washer For Detailing Cars
What makes one pressure washer better than another comes down to a few main variables. How mush pressure or PSI it makes, how much water it moves (Gallons Per Minute), and build quality. A pressure washer rating from the factory and on the packaging is not necessarily accurate or correct. Many manufactures over estimate or embellish their performance numbers to entice sales. What pressure and water flow comes out of the spray nozzle is all that matters and not what the box says. Many pressure washers in big box stores use similar pumps and motors and adjust their pressure out put by using very small nozzles that have to squeeze the water out harder increasing the PSI but simultaneously lowering their water flow (GPM). For car detailing the best pressure is between 750PSI to 1200PSI and a water flow as close to 2 gallons per minute is considered the best flow rate. If you can get a pressure washer that flows over 1.5 gallons of water per minute you should be good. Of course price is a factor and like many other things cheap is definitely not better in the case of pressure washers. If you want the best pressure washer you can afford than we have many on this list that will possibly fit your needs. Not everyone needs a $1,000 pressure washer so calling an expensive pressure washer the best is not always true in terms of needs and the amount of use it will get. At the end of the day, the best pressure washer depends on what you want, these are just our ideas on what we believe are worth the money.
The Best 5 Overall Electric Pressure Washers for Detailing
With so many pressure washers on the market we have chosen the following machines based on performance, build quality, and price. We have included what we think is the best model at different tiers of price. We have used each of these units and can stand behind what we have included here. Another variable we included in our list is that each of these units can be mounted on a shelf. This is the ultimate configuration in your garage so we stuck with this as our barometer. 
1.) Kranzle K1322TS
3.) Active 2.0
4.) Karcher 1700
The Best Pressure Washer on the Market for Detailing
The number one electric pressure washer on our list is our favorite and considered by many professionals to be the best pressure washer on the market. It is the Kranzle K1322TS and is the work horse in our detailing studio. It is extremely well built with solid components and has the performance to match. With its high rate of water flow and the perfect water pressure for detailing it will create extremely thick foam out of your foam cannon. A high rate of flow like the Kranzle's roughly 2.0 gallons per minute of water flow is important as it helps with cleaning and rinsing more than high pressure. Having a flow rate around 2.0GPM makes washing off soap, bugs, and dirt extremely easy and efficient without worrying about blasting off paint. The Kranzle is expensive and the highest cost pressure washer on our list. The retail price for the Kranzle 1322TS is $1122.00 which is a lot but if you detail every day it is worth it because this machine will last for years and maybe for as long as you are detailing. This is a big claim we know but because the Kranzle is serviceable like the engine in your car it can be repaired and maintained for the long haul. As Obsessed Garage has tested this machine for years they recommend a 4.0 orifice 40 degree nozzle when operating the Kranzle. This will give you 1010 PSI of pressure which Matt Moreman has determined with years of testing to be the sweet spot for blasting dirt on a vehicle's surface without the worries of damaging the vehicle's clear coat or paint. The Kranzle is the optimal pressure washer for foam cannons and will create thick foam with the use of a 1.25mm orifice and does not need a 1.1mm orifice to achieve the results you want. So if you want a pressure washer that will deliver every time and do it flawlessly than you may want the Kranzle, especially if you run a detailing business. This is why we picked it as the nest pressure washer on our list because we depend on it everyday and when it comes to technical factors and reliability it can't be beat.
A Perfect Balance of Price, Performance, and Longevity
If you wanted a pressure washer that could take a run at the Kranzle at a cheaper price it would be the AR Blue Clean AR630-TSS. The AR Blue Clean is a monster pressure washer and is extremely close to the Kranzle in so many ways including performance, longevity, and build quality but is priced around $325 less at $799.00. The AR Blue Clean can produce 2.3 GPM with a 5.0 orifice nozzle at 975 PSI which is incredible. This combination of flow and power quite frankly is unmatched even in more expensive machines. It even has more water flow than the more expensive Kranzle.
Many detailers are liking the power and overall package you get with this machine and you will see many YouTube stars like Rad Garage and several others running this pressure washer. It is stout and like the Kranzle can create enough foam to cover a city block. The AR Blue is also a model that can be maintained with oil changes, o-rings, fittings and other components to keep it up and running. Only a couple of things make the Kranzle better than the AR Blue and that is the AR Blue is louder and the main kicker is you need a 20AMP circuit to run it. If you can run a dedicated 20 amp circuit to your AR Blue you will be good to go and that is not that big of a project for an electrician so don't let that hold you back. Overall, this a fantastic pressure washer that is built for years of service and will look amazing on any garage shelf and really is hard to beat.
The Best Pressure Washer For the Money
If you want a pressure washer that delivers high-end performance without the high-end price tag than the Active 2.0 might be the best pressure washer for you. The Active 2.0 is half the price of the AR Blue and a third of the price of the Kranzle and delivers comparable flow at  2.0 GPM and has the right amount of pressure at 750 PSI with a 5.0 nozzle. The unit comes with a 3.7 nozzle and makes quite a bit more pressure and still makes a respectable 1.9GPM. The money you save on this unit compared to the AR Blue Clean or Kranzle will allow you to buy a shelf, upgraded hose, quick disconnects, a new gun, and different sized nozzles to try different levels of pressure and flow. The machine is rated for 200 hours which is double life of its predecessor the Active VE52. Unlike the AR and Kranzle the Active 2.0 cannot be maintained and once it goes you will have to junk it. This is acceptable as it is a great machine at a great price so if you get a couple of years out of it of hard and normal use you probably won't be upset. Another great aspect of this machine is that it is a great backup if you have a Kranzle or AR Blue Clean. When you are doing some maintenance or repairs on your higher-end pressure washer you can swap in the Active 2.0 and not skip a beat. We did a review of the Active 2.0 and you can see more our thoughts on the unit and overall we think it is the best pressure washer for car detailing for the price point and blows away anything at the big box stores. If you are in Canada and want to pick up the Active 2.0 visit our friends at TOC Supplies!
The Tried and True Pressure Washer for Car Detailers
One pressure washer that has been around for years for many detailers is the Karcher 1700 Cube. This pressure washer is about $129.99 online at many retailers and is a great starter pressure washer for those who may be new to detailing or don't have the budget for a more expensive machine. We have used this same machine personally for years at various shops we work in and it has a nice blend of pressure and just enough water flow to get your foam cannon working. The model number stands for the pressure of the unit and that is 1700 PSI and is actually a little much for car detailing and washing so Matt Moreman recommends swapping the stock 1.8 nozzle with a 3.0 nozzle as it lowers the pressure to 1000 PSI and increased the 1.1GPM to 1.4GPM which is much better for detailing. If you are using a foam cannon you will want to use a 1.1mm orifice to get thicker foam as the machine does not flow enough water for a 1.25mm orifice to work properly. If you look through the GloveBox YouTube archives you can see Brad using the Karcher 1700 many times. We still think even with all of the new machines on the market that this is the best low price point machine that you can buy. It is also great for tasks around your house like cleaning siding, decks, fences, and walkways.
The Best Big Box Store Pressure Washer
If you want a easy to find pressure washer that won't break the bank and you can go to Home Depot and grab, than you need the Ryobi 1800. It is a lower cost model around $139 and many times can be found on sale for much less. It is a good around the house machine and looks pretty good and can easily handle washing cars. The Ryobi 1800 cannot compete with the AR, Kranzle, or Active but with some simple upgrades it can make your car detailing experience much more pleasurable. The Ryobi 1800 out of the box is 1800PSI with the factory 1.7 orifice nozzle pumps out a measly 1.1GPM but with a simple swap to a large nozzle like a 3.0 it can crank out 1,000PSI and pump out 1.43GPM which is much better for car washing and detailing. We have heard of these units lasting for years and other that get used daily may last 6 months. The nice thing is many times Home Depot will let you trade your grenaded unit for another one since it does have a solid warranty program. Like many of the other pressure washers on the market it does have a GFIC plug and will fit nicely on a shelf or on the ground. It is a simple machine that can get the job done. Like the Karcher 1700 we recommend running a 1.1mm orifice in a foam cannon to get the desired foam you may want when washing cars. Another great thing about this machine is that since it is a lower price point you can upgrade for a better hose, quick connect fittings, different nozzles, and a better gun and will end up with a nice package for your shop or garage. It is a great machine for mobile detailers or as a back up if your other pressure washer is down. While Ryobi makes some accessories that may seem enticing we recommend getting your accessories and foam cannons from a different source like MTM, MJJC, Adams, or even on Amazon. The Ryobi Foam Blaster is almost $40 and really does not compare to even the $15 models you can find on Amazon. If you want a pressure washer that is good for the beginning of your journey or for a lower budget that is easy to find than the Ryobi may be the perfect machine for you. Face it, we all start out and cannot have the best of everything and maybe you are just a hobbyist that likes taking care of your car and this machine will be everything you need it to be. 
Other Things To Consider When Buying A Pressure Washer
Most pressure washers include some basic accessories to give you a package deal when you buy one. Most electric pressure washers come with a hose, spray wand, and nozzles except for the Kranzle and the AR Blue Clean. Keep that in mind when you need to cough up another chunk of change on a hose, spray gun, and nozzles. Once again the quality and price of these accessories run the gamut and can get really out of hand. Do your research and shop around, there are plenty of options and sources for pressure washer accessories so do what's best for you.
Conclusion About The Best Car Detailing Pressure Washers
Much like the car detailing industry where there seems to be thousands of products and new brands popping up everyday, the pressure washer industry is not far behind. Some of these new brands for pressure washers are great at marketing and may have some cool accessories or features but overall they are most likely missing the mark on quality and what you need for cleaning cars. Yes, they may have a built in hose or a 2000PSI rating but they most likely lack quality materials, won't last long, and probably do not hit the performance numbers they are claiming. 
If you want a pressure washer that works well for car detailing do your research, watch reviews on YouTube, and you will find what you need without over paying or being misled. If you want any insights or have any questions reach out to us or the guys at Obsessed Garage and we will help guide you further in your pressure washer journey.
---