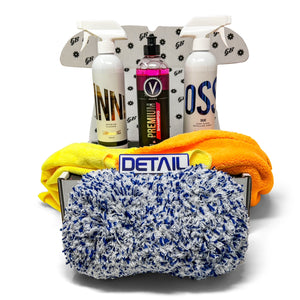 The March 2023 GloveBox
MARCH '23
STEP-BY-STEP GUIDE
Our goal has always been to provide you with a variety of products for you to test and form real-life opinions on. This month we are excited to not only bring back a crowd favorite brand, but also a new company to the GloveBox lineup. Enjoy the products in this month's box and as always, happy detailing! 
1. 
Let's start this
detail therapy
session with a proper wash. Included this month is
Vvash Premium Shampoo
. Add 2 to 4 ounces to your 5-gallon wash bucket filled with water, or ~1 ounce to your foam cannon. The included
TRC
Cyclone Wash Sponge will be the perfect combo for this wash session. We like to start our wash with a thorough rinse, then foam gun action, or washing while dunking your sponge in the wash bucket full of suds. Always work in small sections while applying very light pressure with the sponge. We like to work from the top down, while continuously re-dunking our wash mitt and checking to ensure there is no debris stuck in the fibers that could potentially harm the paint surface. Now give your vehicle a very good rinse and dry.
2.
Now it's time to add some insane gloss. Please welcome
Stjarnagloss
 (pronounced STAR-NA) to #teamglovebox! Grab the
Silke Gloss Detailing Spray
. Spray a few squirts onto your paint surface. Then grab the included 365GSM GB MicroFiber towel, fold the towel into 4's. Lightly wipe the product over the surface. Flip your towel to a dry side and wipe again to remove any leftover product. Admire the slickness, then move onto the next section.
Silke
works great on all exterior surfaces, & also on your interior surfaces. This is a very versatile product. ENJOY!
3.
The outside of your vehicle is now on-point, so let's jump into the interior. 
Another favorite from Stjarnagloss is their
Inni Interior Cleaner
. This is a water based product, so it won't leave a "solvent" smell in your interior cabin.
Inni
is safe to use on all your interior surfaces, like plastics, fabrics. headliner, leather, and door panels. Spray directly onto the surface, or onto the included GB interior towel. Wipe down the section and try not to kiss the surface with excitement after you see the results. 
4. 
CLEAN.
Put on your Sticker*
DRIVE.
REPEAT.
*We are going to start including a bunch of new sticker designs in our 2023 boxes. Let us know what you think. This was inspired by the classic NASA design that's also on our "
Space Cadet
" t-shirt. Check out all our t-shirt designs in our
store
! 
____________
Retail Value = $67
Discounts & Products:
Vvash Premium Shampoo
Use code GLOVE15 for 15% off at the 
www.theragcompany.com
Stjarnagloss Silke Gloss Detailing Spray
Stjaranagloss Inni Interior Cleaner
The Cyclone Bone Wash Sponge
GB 365GSM MicroFiber Towel
GB Interior Towel
GB DETAIL Sticker
---