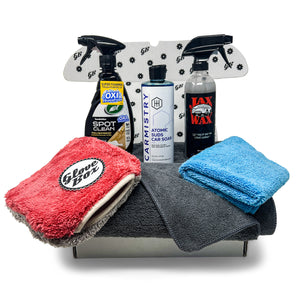 The January 2023 Collection
Happy New Year from the GB Squad! Wow, '22 flew by, and we have no intention of slowing down in '23! Actually, we plan to take it to another level this year and continue to keep #teamglovebox at the forefront of the auto detailing product world. 
Let's kick this off with our step-by-step guide of your January '23 GloveBox:
Step 1: Suds Time! Here is a new product to the detailing world =
Carmistry Atomic Suds Car Soap
. We always love getting new products into your hands to get 
real world
 feedback. This is a pH neutral soap that delivers a ton of suds. Simply pour 1 to 2 ounces into your 5 gallon wash bucket, fill with water and start your wash process. For even more suds put 1 to 2 ounces into your foam cannon. What kind of wash mitt do you prefer? We didn't want to leave you hanging searching for a wash mitt, so we included a
Detailing Wash Pad Sponge
from our friends over at
AutoFiber
. 
Always start washing from top to bottom, while continuously checking and redunking your wash pad sponge. This is a great habit to make so you don't accidentally introduce any hard debris to your paint surface that could cause damage. 
Now that you have thoroughly washed your vehicle, it's time to dry it off. We included a
HUGE GB Drying Towel
. This drying towel is nicer than the towel I use to dry my own body after a shower! Be Careful not to let the towel touch the ground. 
Step 2: Are you a Graphene or Ceramic Coating fan? There are so many options out there in spray form & pour form. This month we included a
Graphene Detailer from Jax Wax
. Simply spray a couple sprays onto a panel, then grab the included
GB 400GSM MicroFiber towel
. Fold the towel into fours. Wipe the product in overlapping horizontal and vertical motions over the panel. Then flip the towel to a dry side and wipe any of the excess Graphene Detailer away. This is a great product to help maintain your coating on your vehicle already, but it is also a great stand alone product that will add protection , gloss, & hydrophobic properties. 
Step 3: Now that the exterior is looking amazing, let's attack some stubborn stains on the interior. 
Another new product to the industry in your hands first, BOOM! From
Turtle Wax
we have included their
Spot Clean Stain & Odor Remover
. This is a triple action
OXI Hyper Foam
formula that cleans, deodorizes, and refreshes carpet and fabric removing tough stains. Simply spray onto the stain, let sit for 30 to 60 seconds, wipe the area clean with a towel, use a second towel to blot dry. If necessary repeat the steps until the soils are removed. 
Step 4: Checkout the included insert card from
Vyper
! They have a great discount waiting for you over at their site. Enjoy! Plus, we put a special
Golden Ticket
in one random January '23 GloveBox that will win someone a free
Vyper Chair
! Good Luck!
Step 5: CLEAN. DRIVE. REPEAT. HAPPY DETAILING & HAPPY NEW YEARS!
____________
Retail Value = $89
Discounts & Products
Carmistry Atomic Suds Car Soap.
AutoFiber Detailing Wash Pad Sponge
GB HUGE Drying Towel
GB 400GSM MicroFiber Towel
Jax Wax Graphene Detailer
Turtle Wax Spot Clean Stain & Odor Remover
---