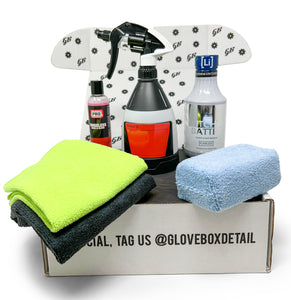 The February 2023 Collection
FEBRUARY '23
STEP-BY-STEP GUIDE
It's always nice to be first. Especially when you get to try products first and get to form a real opinion on whether it is best for you or not. This month we are giving you a few first from a few different brands. 
ENJOY, & don't forget to give us feedback. We can't make the detailing industry better without your feedback & support.
1.
You can have the best sprayers in the world, but can you spray them upside down? Now you can with the included newly released
iK Multi TR Mini 360 Trigger Sprayer
. We really appreciate the continuous innovation from
iK
! As you feel this bottle, you will recognize it is very well built, & can be used for all different cleaning products of your choice. We have been using this bottle a lot lately in the colder months to dilute our waterless washes. Which brings us to our next step. 
2.
Another recently released product:
ProWax Rinseless Wash & Gloss
.  Dilute 1-2 oz. of Rinseless Wash & Gloss per 2 gallons of water in a bucket. Soak a plush microfiber wash mitt into the Rinseless Wash & Gloss solution and wash one section at a time until completely clean. Dry the section using two clean plush microfiber towels. Lightly wipe the first towel over the panel then follow with the second towel to ensure a high gloss, streak-free shine. Excessively dirty areas may require an additional wash. This product is also great to dilute as a waterless wash, gloss enhancer, and clay lubricant. We typically put one cap full into the included
iK sprayer
then fill the rest with water to formulate the waterless wash solution. It is very important to continuously check your microfiber towels when performing a waterless wash, or rinseless wash. Dont be shy, use multiple towels if neccessary. As you can see, we included a few different microfibers for you to try out. One 16 x 16 300GSM microfiber towel, and a 16x24 3000GSM Microfiber towel. 
3.
We are super happy to partner with
Lithium Auto Care
on 
possibly 
new released products. What does that mean? It means you will be the first to test new formulations before Lithium decides to release it to the world. I told you your feedback is important .
The premise behind included
Itch Batter
is to provide an easy and effective way to remove minor scratches, swirls and paint transfers. It can be applied by hand or for more serious swirls and scratches with a D.A. Polisher. We included a 3x5 applicator if you would like to test the product by hand first before testing with a polisher. Add an inch to two inches of product to your applicator, spread the product over a 2x2 section in overlapping motions, keep working the product with light pressure, then remove with a proper microfiber towel. Another important benefit to add, is this product will help seal your paint as you are applying. 
4.
CLEAN.
GIVE REAL LIFE FEEDBACK.
REPEAT.
____________
Retail Value = $65
Discount & Products
iK Multi TR Mini 360 Trigger Sprayer
ProWax Rinsless Wash & Gloss
Lithium Itch Batter
GB 16x16 300GSM Microfiber Towel
GB 16x24 300GSM Microfiber Towel
GB 3x5 Microfiber applicator
---