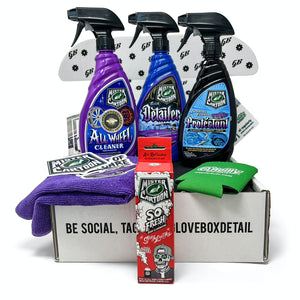 NOVEMBER '23 COLLECTION
NOVEMBER '23 GLOVEBOX
BRING BACK THE TAKEOVER BOXES! We heard you. We also heard you when we did a social media survey on the items included in this month's GloveBox. You talk , we listen!
1.
Let's start with the wheels. One at a time. Rinse down a wheel thoroughly when the wheel is cool to the touch. Spray over the entire wheel surface the included Mister Cartoon All Wheel Cleaner. Let  sit for up to 2 minutes, then rinse off. If the surface is really dirty, agitate the product with a designated brush, then rinse off. This product is pH-neutral & acid free, which makes it safe for all finishes when properly used. 
2. 
Mister Cartoon Quick Detailer. This is a ceramic and carnauba infused blend that is very easy to use. Spray onto the exterior of your vehicle, grab the included microfiber towel and gently wipe off. Flip the towel and wipe again to remove any leftover product. This product will bring depth and gloss back to your paint surfaces, while also adding protection. It is also safe to use on all non-porous exterior surfaces including glass, wheels, plastics, and trim. 
3.
Mister Cartoon Interior & Exterior Protectant for Plastic, Vinyl, & Rubber. This non-greasy, fast drying formula is infused with ceramic polymers that will help keep surfaces cleaner for longer. Simply spray on a microfiber towel and wipe onto your plastic, vinyl or rubber. For Tires, spray directly onto the rubber and let sit for 3 to 5 minutes before driving to avoid sling. 
4.
Mister Cartoon Odor Eliminator Fogger. Want to get rid of nasty odors in your interior?  
Simply turn the air on MAX and recirculate, placing fogger in cup holder or on the vehicle floor. Press top firmly to activate, leaving the vehicle for 15 minutes. When cycle is complete, dispose of the can and enjoy a fresh smelling car.  
P.S. Don't stay in the car while this is on.

5.
Grab the included O'Reilly's koozie, put in your favorite drink, and sit back and admire your clean ride. Cheers!
__________________________________
Retail Value = $60
Discount: O'Reilly's coupon included
Mister Cartoon Odor Eliminator Fogger
Mister Cartoon All Wheel Cleaner
Mister Cartoon Quick Detailer
Mister Cartoon Interior & Exterior Protectant
3 Stickers
O'Reilly's Koozie
---