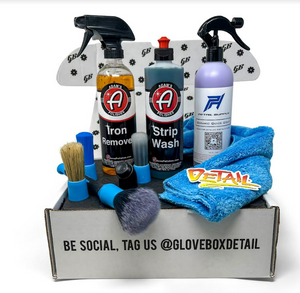 May 2023 Collection
MAY '23
STEP-BY-STEP GUIDE
1.
Have you ever stripped? Well now is a good time to strip your paint surface of waxes, sealants, contaminants, salt, and dirt, so you can start with a fresh surface. We included
Adam's Polishes Strip Wash
. Pour 3 ounces of Strip Wash into your wash bucket, or foam cannon, then wash your vehicle from the top down. This is an acidic product that will aid in removing road films, salts, waxes, polishes, or sealants. 
Why would you want to remove waxes or sealants on your vehicle? Well, overtime some areas that were previously protected with waxes or sealants have diminished quicker than other areas, so to have consistent protection on the exterior of your vehicle you would want to remove what little was left over to ensure you start with a clean "even" slate. Or, your protected vehicle went through a winter beating and you want to remove any protection you had on the vehicle that also may be holding on to contaminants.  
Not enough stripping for you yet? Ok, let's now remove the iron contaminants on your paint surface.  With your paint surfaced already washed and rinsed, while it's still wet spray the included
Adam's Polishes Iron Remover
over the paint surface. Make sure to do this in the shade, and on a cool surface. The product will make your car look like it's starting to bleed, but this is actually the reaction of the iron contaminants being "pulled" from the paint surface. Let the product sit for 60 seconds or so, and then thoroughly rinse off the vehicle. Sometimes I will even follow up with another wash to ensure I have removed all chemicals from the vehicle. 
Why iron remover? Well, cars see a lot of road grime when driving, but it also is exposed to contaminants when parked. Like: ferrous brake dust particles, rail dust, & industrial fallout. These harmful elements bake their way into your paint surfaces, but with the help of the Iron Remover it can easily help in removing these horrible things with ease. * Be Careful that you don't let this product sit on rubber seals / plastics, it can stain these materials if left on for too long. 
2.
Now that you have a contaminant free, dry exterior surface, let's add some protection and shine. Welcome a new brand to Team GloveBox --
pH Detail Supply
, with their Ceramic Quick Coat. In most cases this product will give you up to 3 months of protection with an easy application. Simply spray over half a panel, then wipe with the included GB MicroFiber Towel that should be folded into fours. After wiping, flip the towel to remove any of the excess product. Seriously, it is that easy. Now continue on the rest of your ride. 
This product also makes for a great "quick detailer". rinseless wash, and even works well as a quick interior detailer. 
3.
Have you ever needed a soft brush but only had a stiff bristle brush, or vice versa? Check out the included GB universal brush set. This set allows you to change the brush heads! So whether you need a soft brush for wheels, exterior of your vehicle, or interior. Or , stronger bristols for engine bays, exhaust tips, or wheel wells. This kit is your solution! 
4.
Now it's time to look at your clean ride and decide where you are going to place the included "Hulk" Detail sticker. 
CLEAN.
DRIVE.
REPEAT.
_____________________________________
Retail Value = $80
PH Detail Supply Ceramic Quick Coat
glovebox15 for 15% off
Adams' Polishes Iron Remover
Adams' Polishes Strip Wash
GB 365GSM Edgeless Microfiber Towel
GB Hulk Detail Sticker
GB Interchangeable Brush Kit 
---