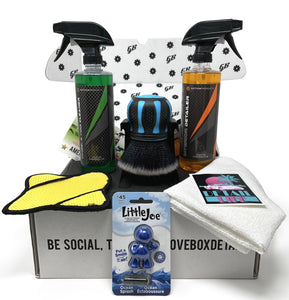 April 2023 GloveBox
APRIL '23
STEP-BY-STEP GUIDE
No April Fools here, just lucky April GloveBox Subscribers! 
1.
Let's start off with a new company to GB = Action Products. One of our goals is for you to try brands you have heard of, and also expose you to brands you haven't heard of. The first Action product we are highlighting this month is their Wheel and Tire Cleaner. This is a non-acid, alkaline formula = safe for all wheel types when properly used. Start by spraying down your wheel wells, tires, and wheels with water. Next, spray the Wheel and Tire Cleaner over those areas you just sprayed. Then agitate the surface with your wheel cleaning tools, or the included GB Blue Ball Brush! Finish it off by thoroughly spraying down the wheel wells, wheels and tires. It's that simple. This product was designed to help remove brake dust, road debris and grime from your wheel surfaces. Tips: Always work on a cool to the touch surface out of direct sunlight if possible. Work on one wheel area at a time before moving onto the next wheel area. 
I moved past the GB Blue Ball Brush (BBB) quickly, but wanted to say how excited we are to let you try this brush that has been creating a lot of buzz on the internet. We recommend if you use this on the wheels, then only use it for the wheels, or if you use it on the interior, then only use it for the interior. The soft bristles can be used for many different tasks: wheel cleaning, exterior crevice cleaning during your wash process, interior cleaning with or without cleaning agents, engine bay cleaning tool, or tire dressing applicator. It also comes with a nice holder that can sit on your shelf or be wall mounted. Enjoy, and let us know what you think of this brush. 
2.
Next let's move into the interior of your vehicle. To keep the Action Products highlight going we included their Interior Detailer. This product will work great on a lot of your interior surfaces like: plastic bits, steering wheel, center console, dash components, nav screens, leather and fabrics. Simple spray onto an area then wipe off with the included White GB Interior MicroFiber Towel. If the area needs more focus and a little more scrubbing power then grab the included Star Scrubber from AutoFiber. Then again wipe up any leftover residue with the White GB Interior towel. The Star Scrubber design makes for easy handling and control. It also is aggressive enough to help agitate stains, but soft enough to work on fragile areas. Tip: Always test products on an inconspicuous area first to check results. 
Now that your interior is looking good, you will want it to smell good. Place the included Little Joe Ocean Splash Air Freshener in your ride.  What's your favorite interior smell? 
3.
CLEAN.
DRIVE.
REPEAT.
Bonus.
We included a new limited edition
"DETAIL LIFE"
sticker for you. This sticker was inspired by one of our
Detail Design T-Shirts
. You can find all merch on our site. 
____________
Retail Value = $69
Products & Discounts
Action Products Wheel and Tire Cleaner
Action Products Interior Detailer
Use code GLOVEBOX20 for 20% off at Action Products
GloveBox Blue Ball Brush
GloveBox White Interior Microfiber towel
GloveBox Detail Life Sticker
Little Joe Air Freshener
Use code JOLLY10 for 10% off at Stoner
AutoFiber Star Scrubber
Use code GB10 for 10% off at AutoFiber
ScreenProtect
Use code GLOVEBOX15 for 15% off at www.screenprotech.com  
---