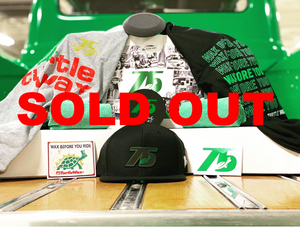 Turtle Wax 75th Birthday Kit: Ceramic & Graphene Paste Wax
Today was a big day for GloveBox -- we were introduced as headline partners at Turtle Wax's big 75th Birthday event. 
Turtle Wax is a global company that has stayed relevant for 75 years while still being family-owned. We learned a lot about their 75 year history, how the company got started, and the many innovations they've brought to the detailing world (e.g., the very first spray wax!). It was inspiring to see a business now in its 3rd generation of family leadership grow globally while keeping its roots intact. Over the last few years you've seen the evolution of Turtle Wax from their ICE product line to their Hybrid Solutions Ceramic lineup and now to their Hybrid Ceramic Pro lineup. Turtle Wax has pushed the envelope with what these types of products are capable of and have constantly leap-frogged (leap 🐢?) their own advances with something better in their own lineup. Fast forward to the 75th birthday party today where they invited what seemed like hundreds of folks to participate in this huge milestone and blessed us all with a 75th Birthday Kit.
What's in the 75th Turtle Wax Birthday Kit?
That's a question we were dying to answer, but needed to wait until today. The boxes that GloveBox (and a select group of industry insiders) received were clearly marked "DO NOT OPEN UNTIL MARCH 4th" and while it was difficult to wait, it made today's celebration even more special. So after all the anticipation we dug into see what gifts we were so graciously given and we were excited by all of it. We initially were stoked for the killer 75th anniversary hat that just pops when you see it. A beautifully made Branded Bills black hat with a 75th Turtle Wax logo embossed snap back is really a great piece of swag and will surely get some compliments. Next we dug into the two different t-shirts that were included and were again impressed with the designs. The gray 75th anniversary shirt pays tribute to the original Turtle Wax branding, while the black Wax Before You Ride shirt blasts you into the future of where this company is going. In keeping with the theme of past and present Turtle Wax included two very cool 75th anniversary stickers that pay homage to every where this company has been and where they are now 75 years later. A great nod to the green turtle were the two green microfiber towels that will work well in anyone's detailing arsenal and are a perfect pairing for what was next. Now the pièce de résistance that we all were guessing and hoping for, a brand new product. That product was the new Turtle Wax 75th Birthday Ceramic + Graphene Paste Wax!
What is Turtle Wax 75th Birthday Ceramic + Graphene Paste Wax?
The jaw dropping Ceramic + Graphene Paste Wax is specially packaged in a modern day version of their original hard "turtle shell" paste wax. It is 5.5 ounces of magic that combines the latest in ceramic and graphene protection technologies into one easy to use paste wax. We were told a full car application can be accomplished in 30 minutes and has 10 types of waxes, polymers, and protectants rolled into one paste wax. Our initial tests proved it was extremely easy to apply and wipe off with the supplied green microfiber towels. The wax is part ceramic, part graphene, and even smells like the classic Turtle Wax paste wax. The Turtle Wax team stated that the 5.5 ounce container can cover 10 cars because it goes on so efficiently. So the key is to use it sparingly as it goes a long way. The team at Turtle Wax also assured us that this product will offer over 1 year of protection, have high hydrophobicity and gloss, and on top of that smell great. Many graphene products have a gray or black tint because they leverage graphene oxide but not the Turtle Wax graphene lineup because they leverage a patent pending formula and technique that allows them to use pure graphene. Taking this innovative technology and partnering it with ceramic components just adds to the durability and effectiveness of this new paste wax. Beyond all of this science and technology we truly believe that former Co-Chairman of Turtle Wax Denis Healy is the magic behind this new wax. While Denis is no longer with us, he is with the detailing gods making big things happen for the future of Turtle Wax and his spirit lives on through his family and all of the employees he inspired. 
How to get the new Turtle Wax Ceramic & Graphene Paste Wax
The excitement around this new graphene paste wax is buzzing and you may be asking yourself where can you buy this new Turtle Wax Ceramic + Graphene Paste Wax. First and foremost you can go directly to the Turtle Wax website and purchase anything from their 75th anniversary lineup. The other place you can get this 75th Birthday Kit is with GloveBox! Subscribers will receive the 75th birthday "influencer kit" for their April shipment. Did we mention this has a $125 value!? This is an insane value and just another benefit of being part of the GloveBox family. 
---