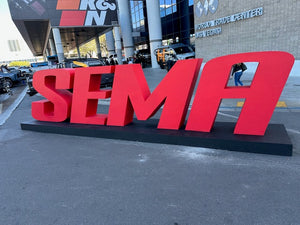 The Best Detailing Products at SEMA 2023
Well, one more year of SEMA is in the books. It was a great show and really felt like things were back to how they were before COVID. The halls were packed with booths and the outside areas were covered in cars, more booths, racing, and so much more. We spent 3 days there and covered most of the booths in the West Hall where the detailing companies tend to display. We saw many other new comers to SEMA in the North and South Halls and of course the mega brands like Meguiar's in the Central Hall. 
The Theme at SEMA this Year was Wraps, Film, and PPF
When we walked into a few of the big halls at the Las Vegas Convention Center we were overwhelmed with the amount of booths for vinyl, PPF, tint, and all of the in-between. Even Ford has a new wrap program that looks like a game changer in the auto manufacturer space that could really make a big impact on personalizing vehicles without waiting months to acquire a special color you may have you hear . We can't wait to see how that works out for them and what it does to the rest of the automotive car buying experience. 
The car care products for PPF and wraps was up slightly from years past and you can a slight uptick in dedicated coatings for that space. There may be a larger opportunity in that market to help maintain and protect these types of materials and could be a nice niche in the market watch out for. Another thing that was started to pop up was "dry wrapping" and we want to see more on the process for that as it goes way outside the normal process for wraps, PPF, and film.
New Polishers and Sanders Were Big!
Polishers were big drops this year at so many booths. Some behemoths rolled out new polisher models like Rupes and other brands launched new lines completely. While the Rupes new rechargeable 5 inch and 6 inch polishers are getting a lot of interest we saw a few others that really peaked our interest. Don't get us wrong the new Rupes machines that last two years have been big hits in the industry and are sure to be great machines but they are also very expensive and not for everyone. We feel like a pro detailer would benefit from these new models especially if you have their other machines. The new Bigfoot iBrid Polishers HLR 21 and HLR 15 are either a 21MM or 15MM throw so they are covering a lot of bases with these machines and the 21 is a 6 inch while the 15 is a 5 inch machine. From what we are seeing they are sold as a kit for either $735 or $760. 
What you get with the Rupes Bigfoot iBrid Polishers Kits:
1x Bigfoot iBrid HLR15 or iBrid HLR21Tool
2x DA Intermediate Foam Pads
2x DA Fine Foam Pads
2x Coarse Wool Pads
2x Fine Wool Pads
1x DA Coarse Polishing Compound
1x DA Fine Polishing Compound
2x Rechargeable Batteries
1x Dual Battery Charger
Again, this is a great brand and looks to be a great machine but may not be for everyone.
One brand that we learned about was RBL which was recently purchased by 3D products. They debuted three polishers and one palm sander that were all rechargeable machines that were really nice. The smallest one was a 1 inch polisher and sander and was really nice in hand and did a really good job on spot sanding dust nibs and polishing tight spots. It made quick work on their test panels on display and was a really great machine for its small stature.
The polisher that caught my eye first was their 3 inch polisher as it reminded me of the Mirka 3 inch polisher that is making waves in the industry lately. It looked similar but was blue and can be adjusted easily for speed but also has a built in timer. Why do you need a timer on a polisher you might ask and I thought the same thing when I saw it. The timer is adjustable to help keep you on target and prevent burning through clear and paint. A light starts glowing white when you have hit the time you selected and can even guide someone in learning how to polisher. I am guessing we will learn more on this feature soon but that was what we quickly learned about it. 
Finally, RBL had a rechargeable 5 inch polisher that was pretty ergonomic and had really nice balance and the weight was really well distributed. The biggest advantage of this machine was the battery on the tail of the polisher can turn vertically or horizontally and seems like a great ergonomic feature no other brand has done. We felt it was smooth, extremely balanced, and had plenty of power. We are hoping to learn the price points and what will be included with these machines soon so we will keep this blog updated as we learn more. 
Best of the Best Detailing Products for 2023
Several brands came to SEMA with a lot to offer the detailing industry and it was really exciting to see in person. Koch Chemie brought out a lot of new detailing products that will be a big hit in 2024. They launched their first holiday themed soap called GFX and that smells like a Christmas winner and is limited to 3,000 bottles in the U.S.. It smelled like cinnamon and a Christmas tree made a cocktail together and should be a great experience to use it. Combining the great lubricity and foaming capability of GSF with a holiday theme is fun and not over done like some brands have done in the past and I think it will prove to be a big winner for them. KCx also displayed their new retail lineup and these products are gear for hobbyists, DIYers, and prosumers and really have a great lineup that will make everyone smile. Much of the products we based on others in the other lineup and will be a perfect fit in many people's garages and arsenals. We can't way to try more of these new  products this year and hopefully our subscribers can see them in an upcoming GloveBox!
We met a a brand recently via email and on Zoom calls and finally were able to meet them in person and it was fantastic. The guys at Maniac and Labocosmetica were extremely nice, easy to chat with, and seem like fantastic people to work with. They have two great brands and very expansive detailing lines that we are really excited about. We have used a few of their products thanks to Eddie Colon and can't wait to use more and see how these stack up to the brands we already know. Labocosmetica is from Italy and you can see the keen sense of design, high level of quality, and value that these products offer and we think they will surprise everyone on how good they are and how easy they are to use. 
The most impressive detailing product we saw this week that has really stuck with me is from our friends at Stoner Car Care. Their new Iron Remover has blown our minds. We all know iron remover products are great for decontamination but they smell absolutely horrible. From rotten eggs to worse, they traditionally are just brutal. Some detailing brands have made them smell "not as bad" but the smell is still bad. Not Stoner, these guys reinvented the approach to iron remover and have completely removed the smelly aspect from their product.
I am not trying to blow smoke, it completely has changed the game and I applaud them for it. So what does it smell like? Well to me it smells like all purpose cleaner and that is about the best explanation I can give for it. It uses a new type of formulation and has completely departed from using TGA like all other iron removers on the market. The formula still changes color to show it is working but instead of changing to purple it changes to orange and looks really cool running down wheels and paint. Normally, an iron remover would have cleared out a booth at SEMA but not this one! We cannot wait to test this for ourselves and hopefully get more of Stoner's products in our boxes in 2024. Use code Glovebox10 for 10% off at Stoner Car Care!
While there are so many more products and brands we want to let you know about we also have to keep some things a secret so we can delight and surprise you later this year. Overall, SEMA was a great show as always and the detailing industry was very well represented amongst so many other niches. 
If you have any feedback, questions, pics, or insights you want us to share hit us up at support@gloveboxdetail.com.
As always, we cannot wait for SEMA 2024 but first my feet and back need some rest!
---