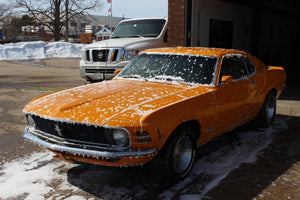 How to Spring Clean Your Car
For many of us it has been a long winter. From the gloomy and very dark days to the days covered in snow and ice, but most of all it is having a dirty car all winter long. Some people are rolling their eyes right now but true car gurus do not run our vehicles through a tunnel car wash in fear of getting swirls or scratches from brushes thrashing at your car like the Tasmanian Devil. Others are laughing since they live in a warmer environment but many of us live in cold weather during the winter like we do in Chicago. The most detrimental thing we face is not the snow, -30 degree wind chills, or the gloomy days; it is the dirt, road grime and most of all the salt.
In many cases we cannot hand wash our precious rides for 3 to 4 months at the minimum and it can play hell on your vehicle. We are not just talking about your paint being filthy, we also mean the interior of your car. Salt, slush, ice, snow, water, and dirt seems to be attracted to us during the winter and can end up all over your floor mats, door jambs, and sills. The spring is your time to make things right by your car. A top to bottom and in and out deep clean is just what you need. 
Where Should You Start with a Spring Cleaning 
This is a good question, we try to start with the interior of the vehicle because we want to limit transferring water and more dirt in and out if you decide to wash the exterior first. No matter what we are cleaning we start from top to bottom whether that is in or out of the car.
Now before you begin cleaning anything inside the vehicle you want to empty out all the loose objects, change in the center console, and the floor mats. After getting any unneeded items outside of the vehicle we like to do an initial vacuum of the floors, seets, center console and door pockets. This will help from transferring dirt, dust, salt, and other debris to other parts of the interior and will make cleaning easier. You will use less towels and chemicals through out the process.
First thing you should start scrubbing is your dashboard. This is the largest flat surface of you vehicle's interior and it can accumulate a lot of dust. Wiping this off is simple and we like using an interior detailer or a diluted all purpose cleaner. Apply your cleaner to a clean microfiber and wipe your dashboard down until you feel you are satisfied. Next we recommend wiping off your steering wheel. This is probably the most touched part of your entire vehicle and it can build up grime pretty bad over the long winter. It is also a great place to disinfect. Just like your dash we recommend cleaning your steering wheel with an interior detailer or APC like Hyper Cleanse with a microfiber towel or a GloveBox detail brush. Brushes are great because they really work the cleaner into all the little facets of your steering wheel. If you have not cleaned your steering wheel in a long time it may take a couple of rounds of cleaning but the difference will be apparent. We continue brushing and cleaning the entire interior including the center console, door panels, door handles, and seat belt plastics and buttons. Do not use anything on your vehicle's video screens that could damage the plastics. Always read the labels and directions on the products you are using to make sure nothing will harm your screens or plastics.
After you feel like your hard surfaces are clean we tackle the seats of the vehicle. Most vehicle's come with leather-like seats and they are usually fairly simple to clean. We start by using a diluted all purpose cleaner or interior cleaner and test a spot that is not visible to see how the cleaner is reacting to the material. You can also use a formulated leather cleaner like Slather or 303 Leather Cleaner and these keep the guesswork out of dilution ratios and possibly using a product that is harsh on your leather. Once your seats are clean and dry you should condition them with a leather conditioner. This is a simple but important process especially after the long winter. Just  like our skin gets dry in the winter, your vehicle's seats can dry out. A leather conditioner is much like hand lotion for your dry hands and skin. It brings back moisture to the leather and allows the leather to be more durable and last much longer.
Cleaning Salt Off of Your Carpets & Floor Mats
Possibly the most difficult part of your spring cleaning is upon us; your carpet and floor mats. After months of snow, salt, dirt, and water the floor of your vehicle is probably trashed. Coated in a white crust of salt and filth you need to break it all down and get it back to normal. Starting with your floor mats you will want to rinse them off with water and spray them down with an all purpose cleaner pr Rubber Mat Cleaner and let it dwell for a few minutes. Then take a scrub brush and start agitating the APC into the floor mat or floor liner. Once you have broken down the dirt and salt you can rinse off the mats and inspect for any stubborn spots. If you find any tricky areas you may want to repeat the process until you are satisfied with the results. Do not try and add any protectants or tire shine to your mats as it will make them slippery and not safe to use while driving.
Now that the easier part is done it is time to clean your carpet. Months of salt build up can make your carpets look white and crusty. It can also damage the fabric and materials in the carpet and over time if neglected it can be even more difficult to remove. First you want to start by prepping the water with hot water mixed with a little bit of vinegar which will help neutralize the chemicals in the salt. We like to do a 1 to 1 mix of distilled white vinegar to distilled water. After letting it sit for a few minutes begin working the product with a stiff carpet brush until the debris and salt begin to loosen up. Then begin wiping the carpet with clean towels to start pulling the dirt out. You can also use a carpet cleaning solution and a drill brush to make this process even faster. After a couple rounds of cleaning and scrubbing you can vacuum the carpet to extract the dirty water out of the fibers of the carpet. This may take another round of scrubbing and extracting to get the results you are looking for but the effort will be worth it.
One thing we recommend doing is rolling down the windows of your car and letting your vehicle air out so you can dry it out faster. This will prevent mold and mildew issues as well so it is worth doing. 
The final detail of your interior cleaning is to clean the glass of your windows, sunroof, and interior mirrors. Grab your best automotive glass cleaner and waffle weave towels and make that glass gleam.
Washing Your Car In the Spring
After you have completed your interior cleaning we recommend giving your vehicle a bath with the three bucket method. A proper hand car wash is a great way to bring your vehicle back to its glory. Having three baskets is not insanity, it is by design. You have a wash bucket filled with your favorite car shampoo, a rinse bucket with clean water, and a third bucket dedicated for your wheels, tires, wheels, and other grimy parts of your car. 
We recommend washing your wheels and tires first as they are the most dirty part of your vehicle because of road film, brake dust, salt, and much more. Start by rinsing your wheels and tires with water and then spray them down with your favorite wheel cleaner. Let the wheel cleaner sit as directed and then begin agitating with a wheel brush, detail brush, and wheel woolie. Once your wheels have been scrubbed clean you will want to rinse them with clean water. Your tires can be cleaned the same way by using your favorite cleaner. You will want to scrub your tires until there is no brown foam remaining on the tire. 
Now comes the fun part for most people, washing the exterior of your vehicle's paint. We always begin by rinsing off the entire vehicle with a power washer to knock off as much dirt as we can. Then ideally we use a foam cannon to spray shampoo on the vehicle to pre-wash the paint. This allows the soap to begin breaking down dirt and lifting it off of the paint. Once the foam hhas dwelled on the paint for a few minutes we rinse it off and then do a contact wash with our dedicated wash buckets. We always wash from top to bottom and constantly clean our wash mitt or sponge in our rinse bucket after every panel.
Once you have washed your entire vehicle and you rinse it off you should use a high quality drying towel to wipe  the remaining water off.
After your car is dry it is a good time to protect your vehicle's finish with some form of protection. There are endless options to choose from and we feel you should at the very least use a paint sealant on the vehicle's finish. Many spray sealants can last as long as 6 months and are extremely easy to use. It will last till you need another coat for the following winter. If you have a ceramic coating on your car this will help protect your investment as a sacrificial layer on your paint that will help maintain your coating. 
After all of your hard work you will be glad you spent the time as your vehicle will look outstanding inside and out. Remember to subscribe to our monthly subscription service to get great products all year to help you maintain your vehicle's appearance throughout the year. 
---