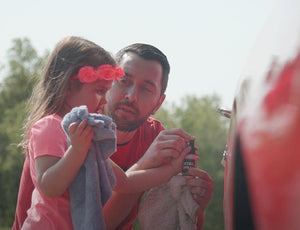 Father's Day Gifts for Dads Who Love Cars
Father's Day falls on the third Sunday of June every year, just after the arrival of summer, sunny days, and warm weather. That makes finding Father's Day gifts for car lovers especially easy. Get dad some detailing or car wash products so he can enjoy returning that showroom shine to his car in the sun, or surprise him with new speakers or seat covers just in time for him to take everyone out on a joyride. 
Below are 12 car gifts for Father's Day any dad is sure to love!
What to Get Someone Who Loves Cars for Father's Day?
If your dad treats his car like one of his most prized possessions, or even if he just generally loves cars, it can be tough to find something he doesn't already have. Treat him to something he might not otherwise get for himself with these Father's Day gifts for car lovers: 
Monthly Subscription Box

– These subscription boxes come with high-quality detailing supplies from microfiber towels and brushes to color protectant and tire cleaner. Whether you surprise him with a box for Father's Day in June or get him a year-long subscription, he's sure to discover some new favorite products for his garage!
WeatherTech Floor Liners

– The absolute gold standard in floor liners, these heavy-duty, Thermoplastic Elastomer (TPE) mats are laser-measured to perfectly fit into any car's footwells. Just enter dad's specific year, make, and model to find driver or passenger-side mats.
Car Cover

– If your dad has a flashy spring-and-summer car that sits in the garage during the cold and rainy months, one of these ultra-soft custom-fit car covers will help keep it free from scratches, dust, and other debris. (Just make him agree to take you out for a spin whenever it comes out of the garage!)
Gifts for Dads Who Like Working in the Garage
Is your dad tinkering around with a new garage project every chance he gets? Whether it comes to car repair or just basic maintenance, detailing, and upgrades, you can't go wrong with these Father's Day gifts for the do-it-yourselfer:
Karcher Power Washer

– With various power options and accessories, a power washer makes it easy to get even the toughest debris off of the hood or wheel wells. They're also great for quickly rinsing down the whole car after a thorough hand washing. Plus, few tools will make short work of a mess in the garage like a power washer.
Underhood Light

– If he likes to do his own repairs and maintenance, he'll love a hands-free lighting option to help him see better in those out-of-reach spots. This underhood light from Milwaukee Tools runs off a convenient rechargeable lithium battery and comes with an adjustable bracket for hanging under the hood to light up the engine bay or positioning elsewhere in the garage to illuminate a workspace.
Vintage Garage Signs – Give dad's workspace a little personality with a vintage steel or aluminum garage sign showcasing one of his favorite auto manufacturers or tool brands. 
What to Get the Dad Who Loves Keeping His Car Looking Sharp
You could always volunteer to wash the car for your dad, but if he's the type who likes spending his Saturday in the driveway getting the car to sparkle, he may be more excited about some new detailing products. These are some Father's Day gifts for car guys who love bringing back that showroom shine: 
Wheel & Tire Detailing Kit

– When it comes to detailing your car, the tires and wheel wells can be a whole separate story entirely. Getting caked-on road debris and brake dust out of wheel crevices can be a real chore. Get dad some supplies specifically designed to bring back his tires' oily black sheen and his wheels' glimmer. 
Interior Detail Kit

– These kits come with cleaners specifically tailored to upholstery and carpet, leather, and vinyl surfaces like your dash panel, as well as a variety of soft detailing brushes and towels.
3 Bucket Car Wash Kit

– Help dad take his car washing game to the next level with this 3-bucket car wash kit. With dedicated wash and rinse buckets on smooth rolling casters, he'll be able to make short work of even the dirtiest car washing jobs without having to constantly change out his materials.
Inexpensive Car Gift Ideas for Dad
Looking for something for Father's Day that any car-loving dad will appreciate while staying under the $30 mark? These are some useful car gifts for dad that won't break the bank:
Cell Phone Holder

– With as often as phone styles and sizes change, there's a good chance he doesn't have a reliable holder for his current cell phone. These sturdy dash-mounted phone holders can be configured any way he wants for maximum convenience and road visibility. 
Detail Brush Set

– If your dad likes keeping the inside of his car immaculate, he probably can't have too many detailing brushes. This set of ultra-soft interior brushes can be safely used on any interior surface as well as on wheels and in engine bays.
Electronic Tire Pressure Gauge – Make sure he's never stranded with a convenient battery-powered tire-pressure gauge. The backlit LED display will make it easy to check for low tire pressure even at night, making this a convenient and safe car gift for Father's Day!
No matter what you need for your dad this Father's Day, GloveBox has your back!
---